Tornado 520 Resolution EX-View C-Mount Camera
Sony Digital CCD Color EX-view mount Bullet Camera NOW with True 520 line resolution. Professional Video at is best!
This camera earned it's name after sucessfully capturing video near a tornado for National Geographic, see the story below. This camera is a bit larger and wider than our other bullet cameras, but is the best camera for DVD quality footage. Recommended for filmmakers. It's low lux rating makes this camera awesome at dusk and has an adjustable lens which will allow you to focus this camera in without changing lenses.
The lens kit for the tornado cam includes these lenses (2.1, 2.5, 4, 6, 8, 12,16, 25MM). We also have varifocal lenses available for the Tornado Cam (3.5-8MM ($49), 2.8-12MM ($69), 6-60MM ($89), 5-100MM ($119)) The mounts are also different. Most of our mounts are intended for the bullet cams, however we do have a Pan/Tilt/Swivel Mini Mounting Bracket that does come with each Tornado Cam Kit. The mount can be attached to either the top or bottom of the camera. The clips will not work, however the Clampod Pro or the window suction mount will work with either camera since it screws into the camera's threads. Keep in mind that as lens size increases, the image will appear closer, but the field of view decreases. Email us for lens pricing on this item as these lenses are not the same as the bullet camera lenses.
Package Includes:
3.5-8mm CS Auto Iris Lens f 1.4
4ft attached RCA/BNC Video/Male Power Cable
8AA battery Clip Holder
Mini Mic
Large Cam Clip & Velcro Bottom Hook and Loop Mount
Top/Bottom Pan-Tilt Mounting Bracket
Specifications:
True 1/3" CCD Color Ex-view SuperHAD Sensor
520 Lines TRUE Resolution
.05 Lux
Accepts any DC Auto Iris C/CS Lens Types
Measures 3" (L) X 1.25" (D)
Operates On 12 Volts DC
Current Less Than 100ma
S/N Ratio >68DB
Auto Iris/DC Iris
Includes Video/Power Cable
Certainly there is NOT one camera manufacturer that can claim their equipment has been through a tornado....and survived - Tim Samaras - APPLIED RESEARCH ASSOCIATES, INC. June 11 2005, National Geographic research team did the near impossible - they chased down a tornado and placed a probe with video cameras (KPC-650CH) directly in its path. Beginning at precisely 2:23 p.m. the team caught images that have - in a breakthrough - made it possible to calculate wind speeds close to the ground, where tornadoes rip through human lives.... Link to the Geographic story: http://magma.nationalgeographic.com/ngm/0404/sights_n_sounds/media1.html
Driven by Passion by Tim Samaras, "This camera is truly remarkable. Displays vivid color in lighting conditions never obtainable prior to Sony's introduction of color Ex-view SuperHAD. (Hole Affect Diode) technology. This camera displays video where other color models simply shut down. If you need color in low indoor or outdoor lighting conditions. Look no further. The only model in the world with this capability. Focusable from 2" to infinity."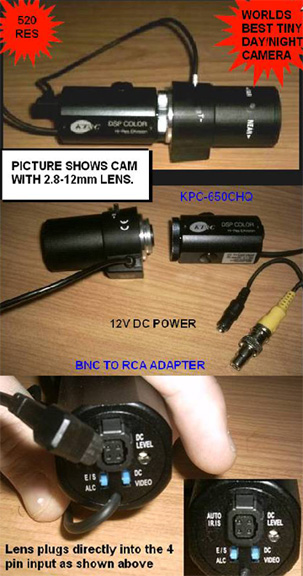 More Information

| | |
| --- | --- |
| SKU | KPC-650 |