Lawmate Portable RF Hidden Spy Camera Digital WiFi Cell Phone Detector
The RD10 Professional-Grade Portable RF Bug Detector and Camera Finder is a new multipurpose counter surveillance device that enables the user to perform fast sweeps for any RF bug transmitting in the 20MHz to 6GHz frequency range (including transmitting cell phones, GPS tracking devices, video/audio bugs, and digital Wi-Fi signals) and offers a blink scanner and viewfinder for detecting hidden cameras - on or off, wired or wireless, dead or alive! The RD10 also features sensitivity adjustment, to assist with pinpointing a bug's exact location. This small lightweight device has a durable & rugged metal housing. At only 3 x 1.75 x 0.5 inches, you can conduct a sweep just about anywhere!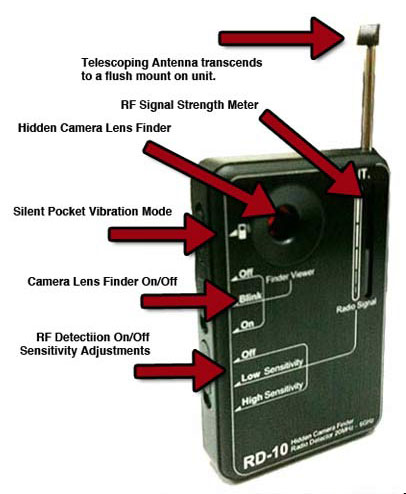 RF Bug Detection
The LawMate RD10 offers super fast RF scanning capabilities allowing the user to quickly scan a room for any radio frequency bug transmitting in the 20 MHz to 6 GHz frequency range.
Hidden Camera Detection
Quickly scan and instantly detect hidden spy cameras using the integrated blink scanner and viewfinder. It doesn't matter if the camera is on or off, wired or wireless, dead or alive, the RD10 will instantly detect any hidden camera lens and display the location brightly and boldly right through the viewfinder.
Silent and Covert Pocket Vibration Mode
For covert applications where silence is a must, simply put the RD10 in vibration mode and it will vibrate when it detects an RF bug, cell phone bug, or GPS tracking device.
Digital and WiFi Detection
The RD10 detects digital and WiFi transmissions so you know instantly if confidential and private information is being digitally compromised.
Features
20MHz to 6GHz frequency scanning range
Sensitivity adjustment
Ten colored light array RF signal strength meter
Optional silent vibration mode
Instantly toggles from RF Bug Detection to Hidden Camera Detection
Dimensions: 3 x 1.75 x 0.5 inches
More Information

| | |
| --- | --- |
| SKU | RD-10 |